2020 will probably go down as the worst year in human history. Very few of those who have made it through this year have had much worse experiences. I could go on and on and on about how horrendous and devastating this year was, but we all know that, don't we? I would like to give my pal 2020 a proper farewell, looking at the positives for once.
So as the most defining year in history comes to an end, here's a look back at the best cricketing moments in 2020!
The Bangladesh Cubs Conquer The Jungle!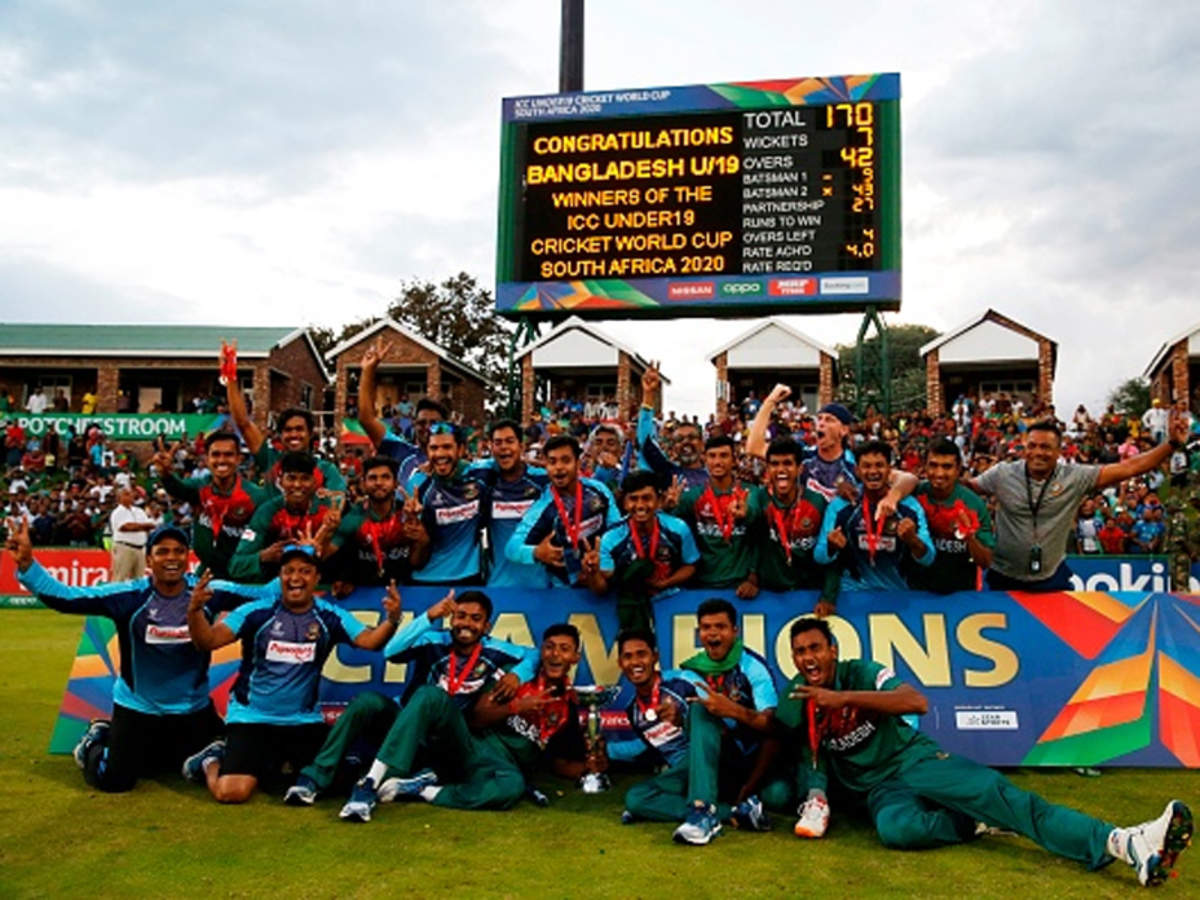 Now now now before you say 'What? This can't be the best cricket moment of 2020!', let me tell you that this list is in order of when the events took place.
Anyway, Bangladesh won the U-19 World Cup in South Africa in February 2020. It wasn't the happiest moment for Indian fans like myself, as India were the team Bangladesh defeated in the finals, but I can only imagine the celebrations back in Bangladesh. This was the country's first ever World Cup win in any format of the game! Bangladesh definitely didn't start out as favourites for the title ahead of the likes of England, Australia, India, New Zealand, and hosts South Africa. But the players showed a lot of heart, and hld the nerve very well. Young keeper-captain Akbar Ali reminded some of Mushfiqur Rahim, and Rakibul Hasan was also one of the standouts in the tournament. Bangladesh cricket has seen some dark days, but this victory brought hope of a new dawn.
It wasn't all gloom for India though. India opener Yashasvi Jaiswal ended the tournament as the Player Of The Series! He was the top scorer with a mind-boggling 400 runs. He made at least a half-century in every single game of the tournament except one (when India were chasing down a total of 42, so he literally couldn't possibly have made a half-century). This was probably the best individual U-19 WC campaign in the history of the tournament. Ravi Bishnoi also showed a glimpse of what was to come later in the year, and ended the tournament as the Top Wicket Taker. Priyam Garg, Kartik Tyagi and Akash Singh were also impressive. The future doesn't look half-bad for Indian cricket!
Main Pal Do Pal Ka Shayar Hoon
Look, I know this is supposed to be a list of all the good things that happened in 2020, but come on, there's no way I'm compiling cricket moments from 2020 and not mentioning MS Dhoni's retirement from international cricket. And if you think about it, it was good in some ways too. He left with dignity. When he left, people still wanted him to play. I'm not the biggest MS Dhoni fan, but even I can see him getting a place in the current Indian T20 side. Well, before the IPL I could, at least.
Still, it was evident that he had been hurt by the BCCI. After the WC 2019 heartbreak, when he wasn't selected in the team, I felt like it was the right decision at the time. But now looking back, maybe the BCCI could have given him a proper farewell. The T20 WC was just around the corner, and it would've been the perfect parting gift to him. Of course, now we know how that turned out.
That video on instagram with the best moments of his career surely would've increased the demand for tissues in India. Add to that the caption. The caption is 10 times more saddening when you understand the context behind it. 'From 1929 hours, consider me as retired'. 1929 hours. 7:29 pm. The time in India when MS Dhoni was run out in the 2019 World Cup Semi-Final against New Zealand. And he never played in blue again.
At least MSD fans got some respite when in the last CSK game of IPL 2020, Danny Morrison asked MSD whether this would be his last game in yellow and he replied 'Definitely Not.'.
The IPL Actually Happened.
If you've noticed, we've skipped straight from February to August, and now to September, because there was almost no cricket in the months in between. Series were getting cancelled left, right and centre and we nervously waited, thinking that the same fate awaits the IPL.
But we were wrong. For all the hate that BCCI gets, it can be a pretty darn good organisation sometimes. They deserve serious props for the way they managed to conduct an entire tournament with 8 entire teams each with around 50 staff members and 25 players and 20 press officials in the middle of a global pandemic! The entire operation was shifted to the UAE, and bio secure bubbles were created, with everyone being tested for the virus every week. Imagine. People from all parts of the world, and yet a whole 64 game tournament was carried so efficiently.
There were just a handful of COVID cases, and those too, because of a certain team (*cough cough* CSK) not following the guidelines seriously, organising training camps and not wearing masks while travelling because 'We don't wear masks with family, bro. – Deepak Chahar in the middle of a pandemic, 2020. If that had spoilt BCCI's gargantuan efforts to put this all together, it would have been such a letdown. But thankfully, it did not, and we got to see a full-scale IPL in all its glory.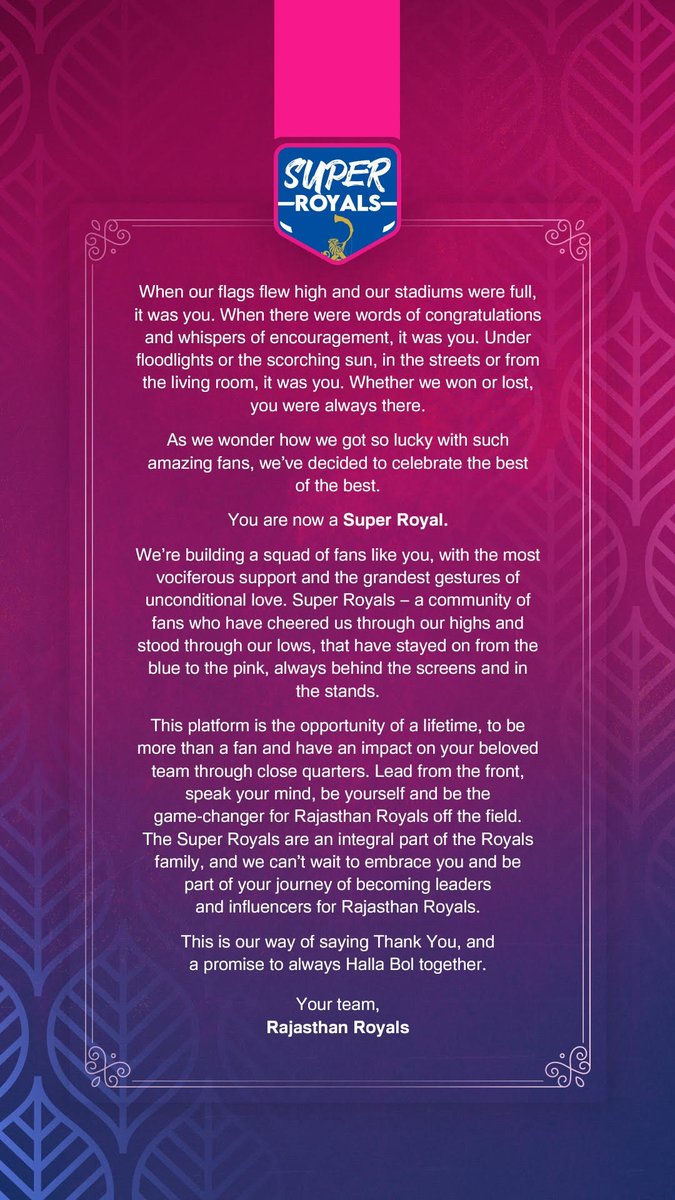 I have been following and supporting Rajasthan Royals ever since I could talk. I have always had a lot of passion and love for the team. And I can't describe how happy I was when I saw RR's DM to me on twitter – 'Hey Kabir, we are delighted to inform you that you have been shortlisted as one of the Super Fans of RR!' It really has been an incredible journey with RR this year. I've featured in the games on TV, on the videos on their social media handles, and on various other platforms actually representing them. I am so grateful to them for giving me this opportunity, it really has been one that I will cherish forever.
Next part coming soon!