Rahul Tewatia Plays The Best Troll Innings In Cricketing History
There were three kinds of people at that moment. When Rahul Tewatia was struggling (a huge understatement) at 8 off 19 after being promoted to No.4 ahead of Robin Uthappa, Riyan Parag and Tom Curran while his team were chasing 227 runs, there were three kinds of people then. One – those who were abusing and mocking Tewatia. Two – those who were abusing and mocking the management. And three, those who were doing both. You see, I simply refuse to believe anyone had foreseen what was about to unfold.
A perfect storm was brewing up. Rahul Tewatia's inability to score quickly, or even rotate the strike, meant that the set batsman Sanju Samson had succumbed to scoreboard pressure and lost his wicket. The social media trolls were in full flow by now, and it seemed certain that Tewatia was going to receive the classic 'Don't open twitter today, mate, hard luck' from coach Andrew McDonald when he walked back into the dressing room. There had been posts calling for retiring him out, and for the non striker to purposely run him out.
 I would pay to see twitter do an investigation on whether that was the day when the most tweets were deleted in history.
With the entire country on his back, Rahul Tewatia took his stance. The West Indian paceman Sheldon Cottrell steamed in. 51 needed, 3 overs left.
First ball, SIX! 'Oh it was just a bad ball, and anyway, it doesn't matter now, he's already lost them the game.'
Second ball, SIX! 'Ohhhhk, well good shot but they're still losing the game lol.'
Third ball, SIX! 'Wait what, this Tewatia chap can actually bat, whaaaaaat!'
Fourth ball, SIX! 'WHAT IS EVEN HAPPENING HERE, TEWATIAAAA LET'S GOOOO!'
Fifth ball, dot. 'Doesn't matter, RR actually have a chance now, come on Tewatia!'
Sixth ball, SIX! 'TAKE THAT TROLLS, ALL HAIL THE KINGGGGG!'
Rahul Tewatia hit five sixes off that over against Sheldon Cottrell! He now holds the record for the most sixes in an over in IPL history, tied with someone like Chris Gayle! His outburst at the end, combined with some Jofra Archer heroics towards the end, helped RR to pull off the highest run chase in IPL history. Oh, and I was on the broadcast twice or thrice during that over, so no bias there 🙂
India Dominates ICC Awards Of The Decade
Virat Kohli won the ICC Male Cricketer Of The Decade and the ICC ODI Player Of The Decade award, and MS Dhoni won the ICC Spirit Of Cricket Award Of The Decade for calling back Ian Bell after that gully cricket-esque run out. Let's not lie to ourselves and pretend that we didn't see this coming. Any award based on fan vote will go to an Indian, it's that simple. Jokes aside, both of them totally deserve the awards they received. In fact, Kohli probably deserved the T20i Award too since Rashid Khan (the actual winner) didn't play too many top teams. But I can see where ICC were coming from giving it to Rashid. Certain people seem to think ICC=BCCI and they have to do something to change that image. Steve Smith winning the Test Player Of The Decade is fully deserved and you can't take seriously anyone who has an issue with that.
Ravindra Jadeja and Hardik Pandya's Dominance Down Under
When India got thrashed by Australia in the first 2 ODIs, Ravi Shastri's inbox was filled with fans pleading him to fake having COVID and cancel the series. The batting department wasn't quite clicking, and the bowling had been at its worst in some time.
The 3rd ODI didn't start off too well for India either. They lost Shikhar Dhawan at just 26. Shubman Gill showed some promise batting with Virat Kohli, but soon enough both of them lost their wickets. Shreyas Iyer and KL Rahul being dismissed cheaply didn't help either. India were struggling at 152-5 soon, and a 3-0 whitewash seemed inevitable.
That was when the Gujarat boys Hardik Pandya and Ravindra Jadeja met at the crease. The bowlers were in full flow and they had to be neutralised first. Other batsmen would probably have looked at a target 240-250 from there, and gone about looking for singles. But these guys aren't ordinary. Pandya didn't touch the brake for a second, instead he kept playing his shots and put the pressure right back on the Aussies. We expect this from Pandya by now, he's one of the best batsmen in the team as he had already proven in the first ODI. But Jadeja seemed to be a weak link. His selection was debated upon by a few, and there were doubts whether he was good enough to be India's No.7.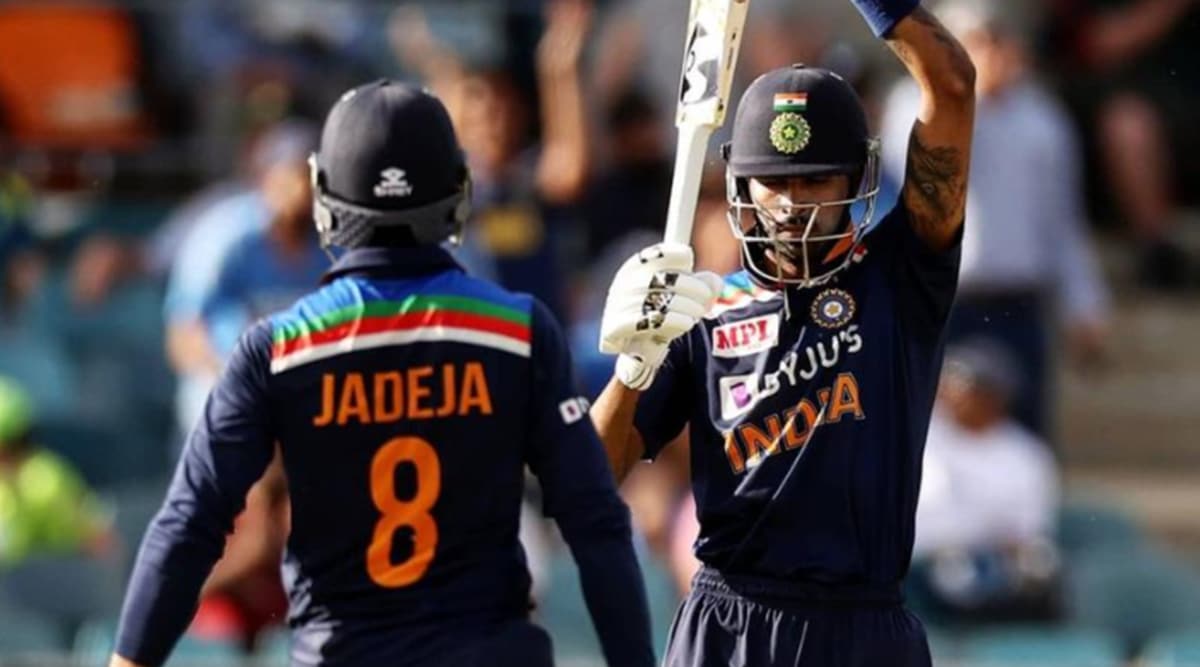 So, there are 4 overs left. Pandya has unleashed the beast, having made 75 at a SR well above 130 while Jadeja is going sizably slower having made 26 at a SR of around 70. And that's when he starts.
Jadeja looks calm considering he has just dispatched the best bowler in this Australian team for 2 sixes in 3 balls. Almost as if he…expected this. Almost as if he knew he was capable of what he was about to do.
There are tears welling up in Sean Abbott's eyes as Jadeja hits his third consecutive boundary against him to bring up his 50. He does that copyright Jadeja celebration and gets on the Aussies nerves. Maybe the celebration will throw him off and he will lose focu-nope that is huge, that is a six! And it was with this innings that Jadeja announced the beginning of his journey as a batting all-rounder for Team India.
From 152-5 to 302-5, Pandya and Jadeja resurrected the Indian innings from the dead. India went on to win that ODI and attain some momentum going into the T20i series, which India won owing to big contributions from Jadeja and Pandya in the first and second games respectively.