18th October 2020 will go down in history as the best day in the IPL ever. It was a Sunday, with two matches to be played. A 'Super Sunday' as the broadcasters like to call it. The first game was the Kolkata Knight Riders facing off against the Sunrisers Hyderabad.
SRH vs KKR
SRH won the toss and put the knights in to bat first. That innings was as average as one can be, and KKR finished with 163 runs. SRH started out pretty strong, with an injured Kane Williamson opening the innings so that he can slog out before the game gets intense. After the good start however, SRH suffered a mini collapse losing their Top 3 in quick succession.  It was then all up to captain David Warner to salvage the game. After a few more wickets fell,  Warner strung up a partnership with youngster Abdul Samad, and kept SRH in the game. But still, when the last over came around, SRH still needed 17 runs to win, in just 6 balls. And as captain Morgan hands the ball to Shivam Ma- wait, what? Andre Russel is going to bowl the last over? Isn't he injured?
So, Eoin Morgan had recently taken over as KKR captain and his first controversial captaincy decision has come already. He preferred an out-of-form injured part-timer who is in the team for his batting to a fully fit full-time bowler who is in the team for his bowling. Russell let down his captain with the very first ball, bowling a no-ball which was also a wide. And with his second, he let David Warner come back on strike. And what more. Warner strung together a hat-trick of fours, and left just two runs to be made off the last ball. Credit where it's due though, Russell made an excellent comeback off the last delivery as Warner could only manage a pad on it as they ran 1. It was going to be a Super Over.
SRH vs KKR – The Super Over
The Super Over was highly anticlimactic though, with NZ pacer Lockie Ferguson dismissing both David Warner and Abdul Samad cheaply and leaving KKR a target of just 3 to chase. And if I have to tell you who won that game from there, then nobody can say that T20 is a batsman's game…
It would be an understatement to say that the second game was absolutely outrageously groundbreakingly outstanding.
KXIP vs MI – The Actual Game
I won't spend too much time explaining the game here, because the Super Overs (Yes Super Overzzzz) themselves are so interesting. So all you need to know is that Mumbai batted first, and were quite lucky to get to 176 after an upper order collapse. KXIP's chase was built around KL Rahul, with him holding up one end and the others just being temporary guests at the crease. At the end when victory seemed to be near, Jasprit Bumrah showed his class and cleaned up KL Rahul with a Yorker. Long story short, KXIP needed 2 runs off the last ball with Chris Jordan on strike. Trent Boult stepped up with a perfect Yorker but Jordan managed to dig it out, and ran for his life. But as he came back for the second, he took a gargantuan detour. You need to run 22 yards to get across a cricket pitch, Jordan probably ran 35 in that second run because of that huge turn he took. And as a result, he was caught short of the crease. He really should've made it though. This wasn't the first time Chris Jordan's running was hurting KXIP (explained below if you don't remember!).
KXIP vs MI – The 1st Super Over
Then came the Super Over. Jasprit Bumrah to bowl. KL Rahul and Nicholas Pooran to bat. But after a single off the first ball, Pooran gifted his wicket away. It was a full toss and should've been put away, but such was the night for him. In fact, he became the first person ever to get two ducks in a T20 game! Ok Pooran's out, but that's alright, remember KXIP have Chris Gayle, Glenn Maxwell, Mayank Agawal, any of them would be grea- wait, is that Deepak Hooda walking out?
KXIP made the bold (huge huge understatement) decision of sending Deepak Hooda instead of the myriad superstars they had in their dressing room. Bumrah didn't falter at all in the remaining balls, and even got KL Rahul trapped LBW off the last ball while he was possessed by AB De Villiers' soul, trying to play a shot only Mr.360 can pull off.
At this point, the game looked to be firmly in the hands of MI. One boundary, and that's it. Shami to bowl, Rohit and De Kock to bat. 1st ball – single. 2nd ball – single. 3rd ball – single. 3 needed in 3, this is going to be a cakewalk. 4th ball – dot. And it was at this point when we thought, wait. Can Shami actually pull this off? 3 needed off 2 now. 5th ball – single. 2 needed off 1 you say? Well well well, MI find themselves in the exact same position as KXIP did in the regular match. And the result turned out to be the same too. 1 run completed, scores tied, ANOTHER SUPER OVER.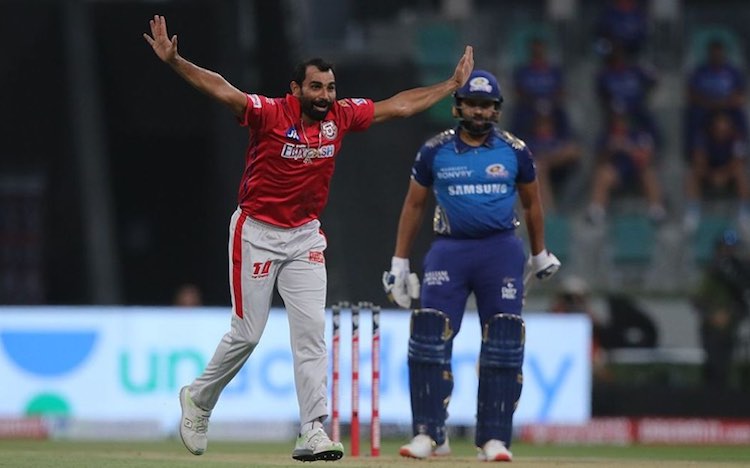 KXIP vs MI – The 2nd Super Over
This was going to be the first time in history that there were going to be 2 Super Overs in a game. In earlier times, the game would've been decided by boundary count and Mumbai Indians would have won it. But with the new ICC rules (thank god for them), another Super Over would have to be played. And there was another facet. Any player who had bowled or batted in the first Super Over could not bowl or bat in the second! So, KXIP's decision to send Deepak Hooda instead of all those other guys seems like a 3D chess move because all of them can be sent now in the 2nd Super Over while the other team has to go with 'weaker' players!
Jordan vs Pollard
A nervous Chris Jordan, still probably guilt-ridden about that last run, walked up to bowl the over. He gave just 3 runs off his first 2 balls, which actually is quite decent. But then he erred a bit and Pollard dispatched him off to the boundary for 4. But his next two balls were quite well bowled too, and one actually managed to get a wicket, even if it was in the form of a sacrificial run-out. Now it was the last ball, and Kieron Pollard was on strike. It wasn't the best of deliveries and Pollard muscles it over long on. It should've been a six, there should've been no way on God's Green Earth that Mayank Agarwal should've been able to soar up in the air, catch the ball and throw it back into play. But that's exactly what happened. It was definitely one of the highlights of the tournament from a fielding perspective. After Nicholas Pooran's athletics in the RR game, this was the second extraordinary fielding moment we saw from KXIP. The Jonty Effect is real, guys.
KXIP's Chase
With the piece of fielding, the inertia was with the Kings XI, but sill they had to chase down 12 runs. Considering they failed to make even half of that with supposedly 'better batsmen', things weren't looking too good for them. But all that was silenced by one swing of the bat. Universe Boss Chris Gayle came in and hit a six off the very first ball. That's it. He took a single after that with 5 to win off 4 now. But Mayank Agarwal gave us no time to fantasize about another Super Over as he hit a boundary off his first ball too. 1 off 3 now. It wouldn't be fair to say the gme is done even here, because this was the exact situation KXIP was in when they took the game to the Super Over against DC. Even the batsman was the same. But it was not to be this time. Mayank kept his nerves and calmly dispatched the ball for another boundary.
Game, Set and Match to KXIP. Well deserved, and well fought for, This match was probably the best match in IPL history other than the Gayle-PWI and the Kohli-ABD-GL and the RCB-49 games. But definitively, this overall day was the best in IPL history.